Representatives of more than 50 companies supplying the agro-industrial complex, industry media and the blogosphere discussed the main trends in the promotion of goods for agricultural production as part of the Discussion Club of Marketers, organized by the organizing committee of the AGROSALON-2022 exhibition together with Agroreport magazine and Freedom Communications Agency.
An overview of the most popular information consumption channels for farmers was presented by the research agency Kynetec.
The top 5 includes the media and social networks, and over the past three years, there has been a positive growth trend in the latter. And, despite the redistribution of social media user traffic in 2022, their demand among representatives of the agro-industrial complex is confirmed by the growing number of subscribers of industry communities.
Ivan Bezborodov, Digital Marketing Manager at Syngenta in Russia, spoke about his experience of promotion in social networks this year. The growing popularity of the company's podcasts also speaks in favor of the relevance of content consumption by agricultural producers through online channels.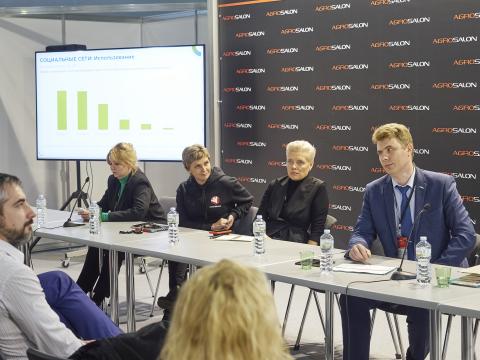 The obvious trend of turning agricultural media into multimedia platforms for broadcasting the industry agenda with the possibility of integrating goods for agricultural production also attracted great attention of the audience.
Today's media, in an effort to expand the possibilities of communication with the reader, are increasingly implementing an integrated approach that includes social networks, industry events, video production, creatives and special projects.
The presentations of the Agroinvestor project and the Agroreport magazine were devoted to these topics. In addition, the discussion club participants received recommendations on working with video content from the Cultivator channel.
"The agro-industrial complex is a science-intensive industry, where the specifics of marketing communications lies in the careful selection of communication channels and content. It is not so important whether you produce or sell machinery, fertilizers, seeds or means of protection - you have to interact with essentially the same agricultural producers who are very demanding on the format and content of communication. In today's realities, the relevance of the exchange of practical experience in marketing is only growing. We hope that such a format of events will become regular and will bring practical benefits to marketing communications specialists in the agro-industrial complex," Olga Luneva, General Director of Freedom Communications Agency, summed up the meeting.