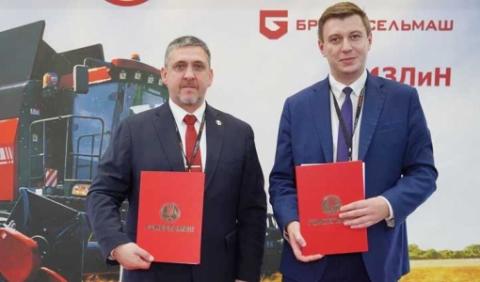 Director General of OJSC Gomselmash Alexander Novikov (left) and Minister of Agro-Industrial Complex of the Perm Territory Pavel Noskov (right)
At the forum site, the government of the Perm Territory signed two agreements with manufacturers of agricultural machinery - JSC "Petersburg Tractor Plant" (PTZ) and the holding company "Gomselmash" (Gomel, Republic of Belarus). The documents were signed by the region - the head of the Ministry of Agriculture of the Kama region Pavel Noskov, as well as the heads of the companies - the director of PTZ Sergey Serebryakov and the general director of Gomselmash OJSC Alexander Novikov.
Agreements with the largest Russian tractor manufacturer producing products under the Kirovets brand and a Belarusian company producing grain and forage harvesters are aimed at increasing the supply of special equipment and components to agricultural enterprises in the Perm Territory through their dealer in 2023. The company provides an opportunity to purchase equipment on a financial lease (leasing).
Earlier, the Governor of the Perm Territory, Dmitry Makhonin, emphasized the need to update equipment in the agro-industrial sector of the Kama region. "Every time we travel to the territories, we definitely visit our agricultural holdings. And when asked what kind of support measure is needed, we often hear that comfortable conditions for leasing are needed. We have great ambitions in the development of agriculture. But at the same time, the agricultural equipment fleet of many enterprises is outdated, needs to be updated, the pace of which needs to be increased," the governor emphasized.
On his instructions, in order to accelerate the technical re-equipment of farmers in 2022, we tripled the amount of subsidies for the purchase of Russian equipment on lease. Now it is 30% of the cost of acquiring equipment, the regional Ministry of Agrarian Affairs reported.
As Pavel Noskov, Minister of Agro-Industrial Complex of the Perm Territory, explained, changing leasing instruments was the first step towards accelerating the renewal of the agricultural machinery fleet. "The increase in quotas for agricultural machinery supplied to the Perm Territory under signed agreements with manufacturing plants is the second step to create conditions for accelerating the technical and technological modernization of the agro-industrial complex in our region," the head of the department said.
General Director of the Agromarket group of companies Marat Khalilov emphasized that today there is a high demand for new agricultural equipment in the region: "The agreements signed by the Ministry with manufacturing plants will allow us, as the only dealer of Kirovets tractors and Gomselmash combines in the Kama region, to increase the volume of deliveries of machines for the farmers of the region from 25 to 50 units per year".
Of these, 30 pieces of equipment are tractors under the Kirovets brand. "Under the new agreement with the region, the quota for the Perm Territory in 2023 will be increased immediately by 70% - from 18 to 30 tractors," Boris Filin, Deputy Sales Director of Petersburg Tractor Plant JSC, explained.