On June 2, the long-awaited meeting of the members of the AGROSALON exhibition committee took place in Moscow, where they discussed the organizational issues of the upcoming exhibition.
Representatives of Amazone, Klaas Vostok, Krone Rus, Lemken Rus, Petersburg Tractor Plant, Rostselmash, Rubtsovsky Spare Parts Plant and CIENACH Industrial Russia gathered at the meeting at the exhibition management.
The Committee discussed topical issues of participation in the exhibition and decided to postpone the Independent Professional Contest of Innovative Equipment AGROSALON-2022 to 2024.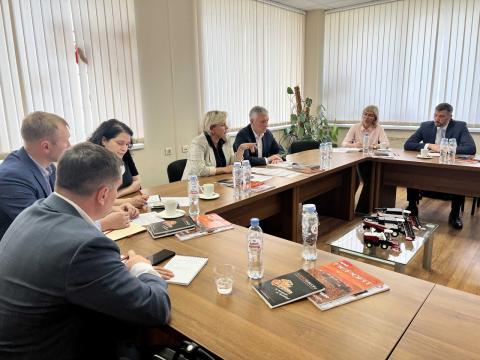 "The proposal to postpone the Innovation Competition is related to the logistics of delivering equipment to the exhibition. Since in the current situation not all companies have the opportunity to bring the latest developments to Russia, we decided to maintain equal conditions for everyone who wants to take part. In addition, the transfer of the competition to the next AGROSALON will allow you to carefully prepare your new products. In any case, we will see a lot of innovative equipment at the exhibition, because the introduction of new technologies in agricultural engineering is growing rapidly," explained Alla Elizarova, director of the AGROSALON exhibition.
The planned meeting made it possible to outline a further plan for the preparation of the exhibition.
AGROSALON will be held from 4 to 7 October 2022 in Moscow and will present the full range of agricultural machinery, components and equipment for working in the field.