At the international exhibition AGROSALON-2022 in Moscow, a sample of the new S-6000 seed drill with improved qualities, created at the Penza enterprise Radiozavod, was presented.
The presented sample of sowing equipment is equipped with a two-section hopper with a volume of 3000 l, which makes it possible to introduce fertilizer or a second type of seed into the furrow in one pass. The design of the equipment allows sowing on moist soil, evenly distributing the seed without damaging the seeds, maintaining a high working speed of up to 14 km/h and at the same time low fuel consumption.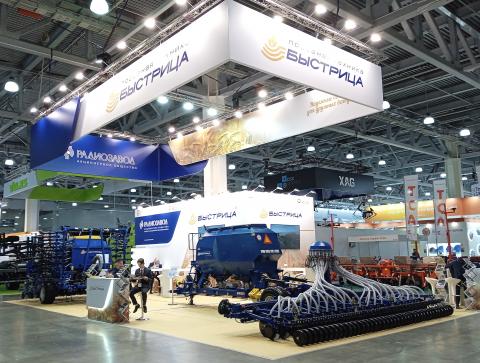 The S-6000 seeder was developed by the Penza JSC Radiozavod (part of Ruselectronics) as part of an investment project with the support of the IDF. Last year, the Fund provided the enterprise with a preferential loan in the amount of 210.8 million rubles. "Today, the annual sales volume of our agricultural machinery is 370 million rubles, which is about 15% of the market. We see the potential for development and, thanks to a soft loan from the Industrial Development Fund, we are able to realize it by expanding the range of sowing equipment.
As part of AGROSALON-2022, we showed the latest model of equipment, which will go for testing immediately after the exhibition. We expect to start serial production of the S-6000 in 2024. I am sure that the equipment will be in demand both by small farms and large agricultural holdings," said Oleg Ratnikov, director of Radiozavod JSC.
It should be noted that JSC Radiozavod is one of the largest industrial enterprises in Russia, engaged in the creation of automated complexes and special-purpose control systems. Since 1998, Radiozavod has been developing the production of civilian products, supplying sowing equipment to the regions of Russia and the CIS.